Keeping a social, healthy, and connected culture in a remote environment can be difficult, but we've been lucky to think of ways to work around these challenges and harness a positive environment with thriving work relationships.
How is this possible?
One of the many ways we encourage a healthy culture is by implementing five key Core Values for Intrinsic Digital that we use as a guiding force in our internal interactions and our business with our clients: Accountability, Authenticity, Caring, Surprise & Delight, and X-ray Vision.
Each month we have our team members anonymously nominate their colleagues that represented these Core Values and award a small token to winners.
Last month, we were due to nominate the person in our company that best represented the Core Value: Caring We set the expectation for caring to mean: "We show genuine concern and respect for our clients, each other and our communities through giving back and taking time."
Our winner for "Caring" was Charlotte Barter! Charlotte Barter, our Vice President of Digital Marketing, shines not only through her unparalleled expertise but also through her unwavering dedication to our clients and staff. Her brilliance in navigating the dynamic world of digital marketing is only matched by her genuine and heartfelt care for those she serves. Charlotte's ability to forge deep connections with clients is truly remarkable; her attentiveness to their needs and her commitment to delivering tailored solutions showcases her extraordinary level of care. Beyond her interactions with clients, Charlotte extends her warmth and compassion to our entire team. Charlotte Barter is not just a digital marketing powerhouse, but an embodiment of empathy and care that enriches every facet of our company's journey.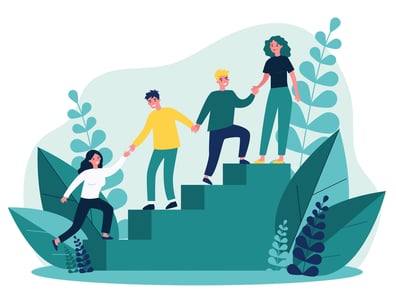 See what our team members had to say about Charlotte in their nomination submissions:
"Charlotte represents the core value of caring very well! She cares to ask questions to see how you are doing. Charlotte provides solutions to make everyone's work easier. She joins in meetings and listens to feedback to help. Charlotte's caring demeanor is very much appreciated!"
"Charlotte is so totally invested in the health and growth of our company, the peace of our employees, and the success of our clients. She wears her heart on her sleeve and she is one of the most caring people I am blessed to know."
"Charlotte is great at creating the space to talk about the environment. It's not the most glamorous subject but she helps remind us that it's important to take care of our planet."
"Charlotte cares so much about every single person on this team, and it's evident in how she is constantly trying to make sure that we have the best employee culture. She is just such a delight and I'm so grateful for her in my life and here at work. We are lucky to have her as our advocate. She also looked to see who didn't have a lot of nominations and gathered a group to try to make sure everyone had at least one nomination. <3"
"Charlotte spends so much time caring for others inside and outside of work. She is always trying to offer the best solutions to her team and to our clients."
Next up
August's core value is Surprise and Delight: "We actively look for opportunities to deliver unexpected value and exceed expectations with everyone we work with."