Keeping a social, healthy, and connected culture in a remote environment can be difficult, but we've been lucky to think of ways to work around these challenges and harness a positive environment with thriving work relationships.
How is this possible?
One of the many ways we encourage a healthy culture is by implementing five key Core Values for Intrinsic Digital that we use as a guiding force in our internal interactions and our business with our clients: Accountability, Authenticity, Caring, Surprise & Delight, and X-ray Vision.
Each month we have our team members anonymously nominate their colleagues that represented these Core Values and award a small token to winners.
Last month, we were due to nominate the person in our company that best represented the Core Value: Surprise & Delight. We set the expectation for Surprise & Delight to mean: "We actively look for opportunities to deliver unexpected value and exceed expectations with everyone we work with."
Our winner for "Surprise & Delight" was Madison Sargent! Madison is an incredibly talented digital marketing coordinator, and their dedication to their work is truly commendable. They approach every project with a positive attitude and a willingness to listen and learn. Their open-mindedness and creativity contribute to a supportive and empowering work environment, making them not just a valuable team member but also a cherished colleague.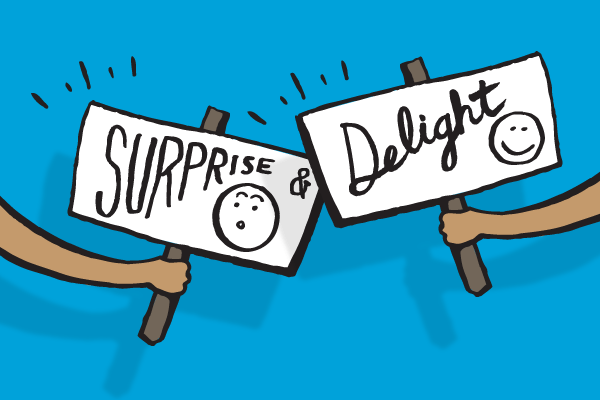 See what our team members had to say about Madison in their nomination submissions:
"Madison radiates a positive attitude and takes on new projects with a close eye and thoroughness. I greatly appreciate their Teams chats with insights to set up the campaigns for optimal performance. They are such a delight to work with!"
"Madison always takes the time to leave a comment on their Asana tasks and sends them to me on Teams, confirming they are done! They don't need to do this but takes it upon themself to go above and beyond in their willingness to assist others and in their communication! They are an amazing asset to the campaign team! Love to see how they are thriving here and contributing so much!"
"Even though Madison is new, they reach out to me and send over Asana tasks in detail and answer all of my questions in the comment section without me asking. They have definitely shown this month's core value of surprise and delight. Super happy to be working with them."
"Madison has consistently went out of their way to support others on the campaign team when we've gotten overloaded. It's been so nice to have their positive energy around. It's clear they really love life and nature which is amazing to see!"
"Madison noticed that one of their teammates seemed overwhelmed, so they quietly jumped in and helped pick up some tasks off her plate to help out. Super caring and great example of surprise and delight!"
Next up
August's core value is X-Ray Vision: "We see through challenges to seek undiscovered opportunities.