This is the ninth in a series of blog posts that will highlight ten reasons that have contributed to making Intrinsic Digital a great place to work.
How did Intrinsic Digital become a Great Place to Work?
100% of our employees said we are a Great Place To Work US compared to 57% of employees at a typical U.S.-based company.
Across the board, our employees said:
✔ 100% Management makes its expectations clear.
✔ 100% I can ask management any reasonable question and get a straight answer.
✔ 100% Management is approachable, easy to talk with.
✔ 100% Management is competent at running the business.
✔ 100% Management hires people who fit in well here.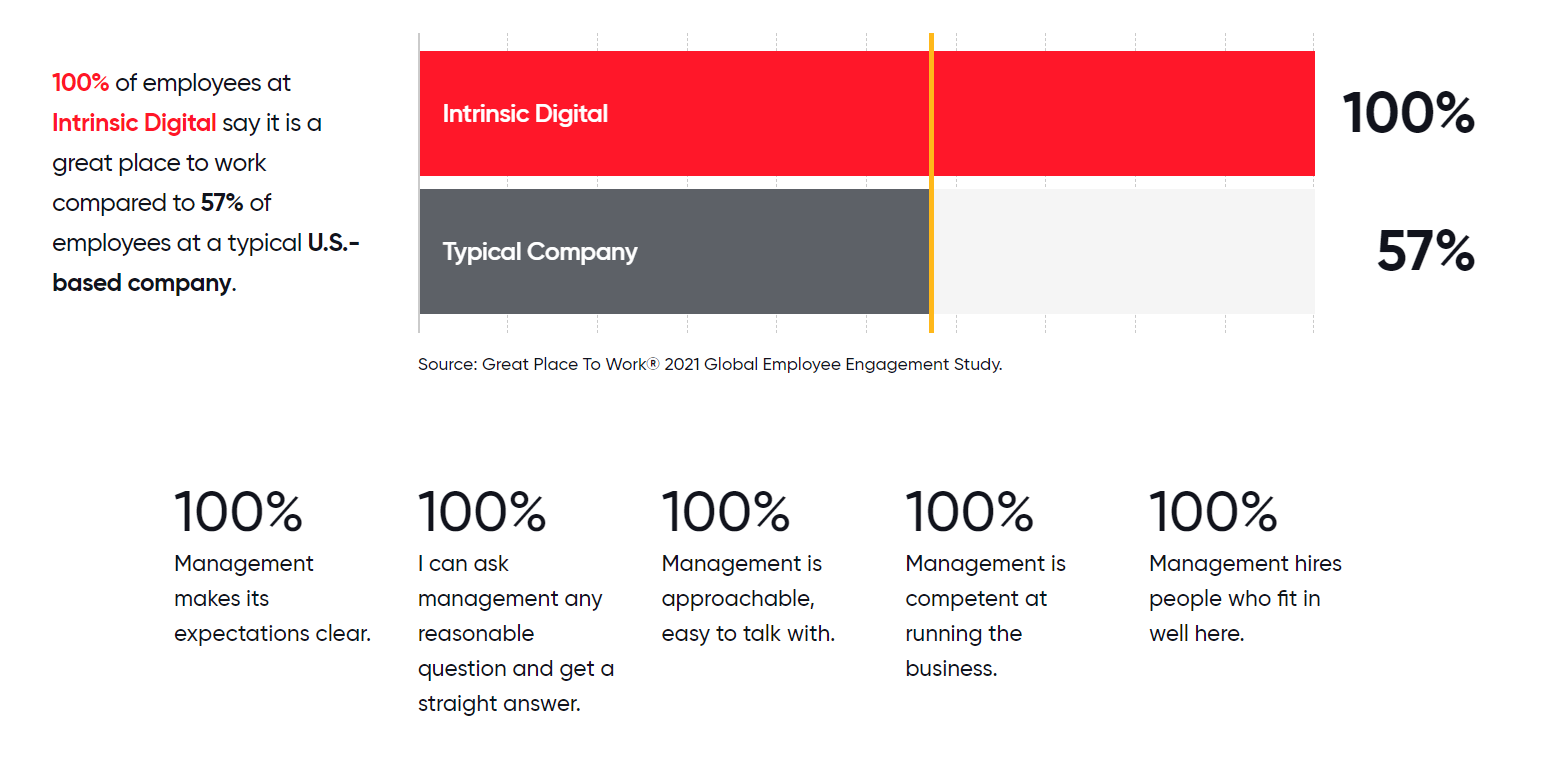 How is this possible in a remote company?
Reason #9: Productivity Tips from Staff
From the "Eisenhower Matrix" to the "Getting Things Done" system, there is no shortage of proven, prominent systems in the productivity arena. But what methods do real people actually end up using in a real-world working environment? We might be biased, but our team members at Intrinsic are smart cookies when it comes to time management. We're big on accountability, especially with working remotely within a team where members have a choice of five different 8-hour schedules starting between 7 am and 11 am EST.

Here's the scoop on some productivity tips from our Intrinsic team members!
Stimulate the Senses
Some of our team members like to listen to their own jams and podcasts, and take a moment to get some fresh air before starting their day:

"I walk outside and put my feet in the ground for a few minutes while the coffee is brewing. Helps me stay grounded, literally!" - Will Scrivener, Account Executive

"Very loud music" - Matthew Kilmurry, Founder & CEO

"Listening to conspiracy documentaries/podcasts…" - Kesha Hinton, Digital Marketing Analyst
Time Blocks
Calendars are not just for meetings! Intrinsic team members also heavily relied on time blocking to schedule some time to focus.

"Time blocking is huge for me! I also find a podcast to listen to." - Alexa Collier, Onboarding Specialist

"For low-medium urgency tasks sticking to the bottom of my lists, blocking off time on the calendar has helped me." - Delia Hernandez, HubSpot CRM & Automation Specialist

Did you know? Outlook sends out biweekly briefings from Microsoft Viva inviting users to book some focus time on their calendars! Look for an email from Microsoft Viva to learn more.
Get Organized with EOS (Entrepreneurial Operating System)
New Intrinsic team members receive "What the Heck Is EOS?: A Complete Guide for Employees in Companies Running on EOS" as their required reading during onboarding. When it comes to prioritization, this system adheres to prioritizing "rocks" in the mason jar of time. Rocks represent high-value projects that drive growth and that actively require scheduling to prevent urgent, low-value tasks from receiving priority treatment. And to avoid unnecessary meetings, each member can list questions and issues that arise throughout the week on a shared spreadsheet and return to their tasks at hand knowing that their questions will be addressed during weekly EOS meetings.

Charlotte Barter is a big fan of putting first rocks first and scheduling out issues:

"Following EOS has actually really helped me with this! Knowing that there is a set meeting each week and I can just throw something on the issues list instead of immediately trying to solve it (although I could get better at actually doing this..). Also, big projects going on the rocks list and prioritizing each quarter [has also helped]." - Charlotte Barter, VP, Digital Marketing

"...I use a similar approach," shared Lori DiGirolamo, Executive Assistant to the CEO. "The 4 D's: 'Do it, Delegate it, Delay it, or Delete it.' At the end of the day, tasks will fall under one of these four categories. Not all issues that arise are urgent fires to resolve."

EOS helps keep the team focused and when reviewing the issues list, the team gets to share their input as to the timing of projects, who owns the project, or if the issue should be delayed or deleted.
Utilize your Voice Assistant
But that's not all the tips that our team shared! One of our team members utilizes her voice assistant, Alexa, to stay organized. One of the advantages of working from home is having complete freedom to set up your environment for optimal productivity AND use your own personal gadgets to stay on target.

"Everything is on my calendar...for myself and for Matthew. I also use Alexa to set reminders and alarms." - Lori DiGirolamo, Executive Assistant to the CEO

Voice assistants like Alexa and Google Voice are great tools that enable users to set timers and reminders. And given they are already popular devices embedded into our everyday lives, why not utilize them to stay organized in your professional life?
Make a List
Whether digital or analog, capturing lists was another go-to method for our team to help them stay productive. There's no need to overload your short-term memory when you list out your tasks:
"Getting everything in Asana (or generally written down) so that you can actually see what needs to be done in one place and prioritize." - Charlotte Barter, VP, Digital Marketing
"For me in particular, I plan what I want to accomplish for the day as soon as I sign on & that includes sometimes blocking time on my calendar. And then a good music playlist keeps me engaged throughout the day!" - Anya Davis, Digital Marketing Analytics Manager

"Similar to Anya Davis, the day before or EOD, I like to write down my tasks for the next day. That way I don't have to think about 'what to do next,' it keeps the productive flow active for me." - Vincent Oliver, Account Executive

"I find creating an above and below list helpful. If you write a list of the things you need to get done, you put everything that has to get done today above the line, and below the line are things you would like to get done, but don't necessarily have to get done today." - Laurel De Luca, Client Success Senior Coordinator
Switch Up Your Environment
While working in your pajamas is an excellent work-from-home perk, wearing real pants (as opposed to sweatpants) can trigger your brain to be more alert. Remote workers can also venture into the great outdoors with Wi-Fi support to switch up their working environment. One Intrinsic team member attests that it is quite energizing:

"Similar to others, I create a prioritized list each morning, feel-good playlists and when days are starting to feel mundane I leave the house and go work somewhere else…Oh and I find I am so much more productive when I actually get myself ready/presentable for the day." - Jacqueline Byrnes, Campaign Success Senior Coordinator
Take Frequent Breaks
Did you know that your brain can maintain 100% of its focus for only 45 minutes at a time according to Healthy UNH? One of our Intrinsic team members optimizes his brain power, by adding some dopamine to these brain breaks:
"I find that periodic 'Brain breaks' after hyper-focused times help me accomplish more throughout the day (going outside for a few minutes, getting snacks, playing with the cat)." - Joseph Brown, Marketing Coordinator
Since pets coast by rent-free, we greatly advise capitalizing on those dopamine breaks by petting your household pet, cat, bunny, or rock.
By implementing these productivity tips, the team at Intrinsic has found effective ways to manage time, stay organized, and enhance their overall work performance. Consider adopting these strategies to optimize your own productivity.